iolo System Mechanic
System Mechanic®
You don't have to be an expert – it's easy to let System Mechanic automatically performs a 229-point diagnostic computer inspection in just a few minutes using over 50 tools to uncover why your PC is running so slowly. Here's a quick look at the dashboard:
Easy to understand system overview
Quick or Deep analysis options
Comprehensive status gauge
Clear explanation of each problem
Straightforward actions to fix all problems or only those you want
You can easily perform dozens of performance-boosting optimisations in one step!
Automatically eliminate each and every root problem affecting your PC's speed and stability
Achieve maximum PC performance with System Mechanic's comprehensive set of tools to address each of the root causes of PC slowdowns. System Mechanic is the only product available that resolves each and every one.
Fixes Registry errors
Safely cleans & repairs the Registry to fix problems and free up memory.
Speeds up Windows Start Time
Unclogs speed-robbing bottlenecks for up to 800% better startup speed.
Restores Stability & Performance
Diagnoses and fixes hundreds of problems for like-new reliability.
Improves your gaming experience
Play the latest high-performance games at maximum speeds.
System Mechanic is able to provide the
most complete approach to PC care
because it integrates
50+ diagnostic, repair, and optimization features
into one easy-to-use interface. Plus it leverages unique intelligence provided by iolo Labs' continuously updated
Tune-up Definitions™
to custom tailor its diagnosis and repair to your specific system configuration.
Speed up your PC… and more!
More than 50 features sounds like a lot – and it is! – but System Mechanic is designed so that you can quickly get to the repairs and optimisations you need, skip those you don't, and explore as much or as little about your PC as you'd like. For example, use System Mechanic to find and remove junk and clutter, which is one of the most insidious factors in Windows performance degradation and a threat to your privacy.
System Mechanic provides
complete ease and flexibility
to help you speed up your PC no matter what your experience level:
Individual Tools
Such as
Startup Optimizer™
and
EnergyBooster™
for users who want
total control. 
All-in-one Tools
Such as
PC Cleanup™
that automatically detects and cleans out temporary files and other useless data. 
ActiveCare® 
Patented Technology
Automatically and effortlessly fix and maintain your PC during idle time, keeping your system running like new.

   "System Mechanic's optimisations have a noticeable positive impact on performance."-Softonic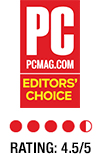 "If your PC isn't blazing along at the same pace it did when you first pressed the power button a few weeks, months, or years ago, you should invest in iolo System Mechanic."-PC Magazine

"System Mechanic is a solid option for users who hope to breathe new life into their PC as well as current customers looking to ensure they have the latest from iolo's software line."-TechRadar